This trip incorporates three methods of travel. Bikes, Packrafts, and foot. All gear must be able to be used and packed for efficient travel in all three modes. Evenly distributed on the bike for riding, totally waterproof for packrafting, and quickly and easily packable in a backpack for easier bike pushing when walking. Most of the gear is simple lightweight backpacking stuff, but with keeping the principles above in mind.
Bikes:
We are using
Surly Pugsley
frames with 80mm rims and 3.7 Surly Endomorph tires. Wheel builds by the big hoop Guru's at Speedway Cycles in Anchorage AK. The bikes are set up as simple as possible - low geared singlespeed, platform pedals, phil wood bottom brackets and one avid bb7 disk brake mounted on the front for easy removable of the rear wheel in the horizontal dropouts.
For packing systems we are using high volume
Epic Designs
custom made frame bags, with waterproof fabric and water resistant zippers. The frame bags sole purpose will be to carry many pounds of food. Custom made heat sealed drybags are used inside the framebags for easy removal and to keep food water tight and yummy.
Rear Rack's were chosen over seat bags due to the ability to carry drybags and wet packrafts with ease.
Old Man Mountain
White Rock rear racks were chosen for their simplicity, and bomb proof reputation.
We plan on biking with the packrafts and paddles simply strapped to either the handlebars or rear rack for easy and quick access.
Packrafting: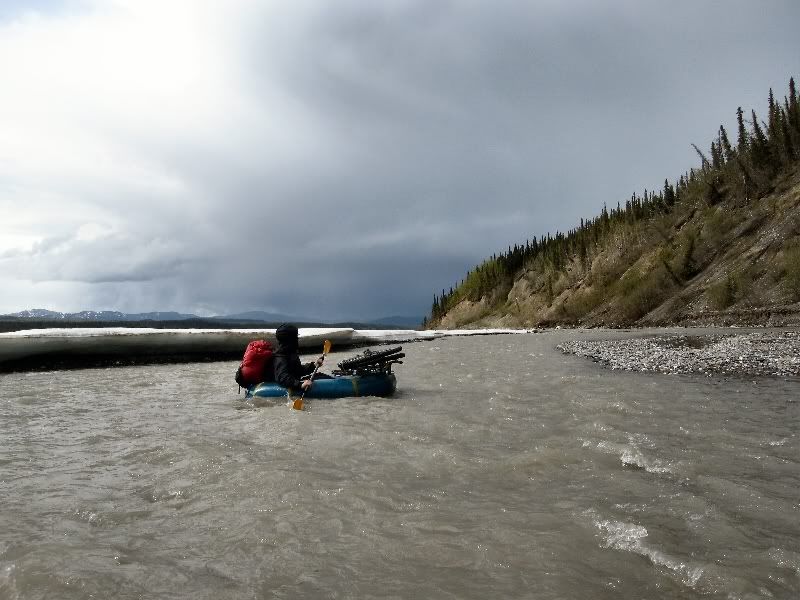 Alpacka Packrafts
- The one and only and best. These boats weigh 4-5 lbs and are amazingly durable. I'm using a 2003 vintage llama with spraydeck, while Dylan has an old Alpacka size without a spray deck. We both have 4 section Kayak paddles. Due to the "big" water nature of the Icy bay and Hubbard Gap Crossing, we are bringing real PFD's with us that will also serve as vests for warmth and sleeping padding. I'm using a prototype 2-piece light weight drysuit from Alpacka Raft which also serves as wind and rain gear. Dylan is toughing it out with simple REI rain gear.
Foot:
We will carry light weight but large volume packs which will only carry sleeping gear and clothing when biking, but will be able to carry all gear and food for when a light bike is needed to push and bash through boulder fields and thick bushwacks.
Montrail and Soloman trailrunner shoes used on the feet with sewn in stretch scree gaiters. For socks we will use neoprene socks, wool socks and some random pair of sleeping socks.
Camping etc:
All cooking will be done on driftwood fires without a stove. So only basic cooking tools are needed. We will each bring a 1.2L Titanium pot since we eat allot and never learned to share.
Shelter - Blackdiamond Megalight. A silnylon version of the megamid. Floorless 4-sided pyramid. Light, simple and tons of room.
Sleeping - Synthetic sleeping bags, The remains of a bear attacked therma rest pro-lite 3, which repaired still holds air but is now a 3/4 length, closed cell foam for Dylan, packpacks and life jackets.